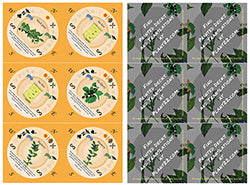 The Food Forest PDF Download - Permies Special
Regular price $10.00 Sale
Yay! You found your PDF download! If you already paid for this download, or received it as part of a Kickstarter package, NEVER FEAR! You will NOT have to pay again at check out -- assuming you clicked through the link from the Permies.com website.
To get your download, simply click "Add to cart" and then click "check out". When you get to the "check out", page your total should be $0. If it's not, you need to contact me through the contact page on this website so I can confer with the Permies folks to see what happened.
I couldn't remove the billing address option. Sorry. The only part of the address that is actually important is the email address, since it's a backup way to download your PDF. Feel free to take creative license with the rest of it.

After you download your PDF, you might want to look at our hard-copy deck and translations! And don't forget to glance at our instructions, resources, videos, and blog.

If you are ready for your download now, please click "Add to cart" and then "check out" and enter the coupon code that you already received! This download page won't last forever, so there's no time like the present!